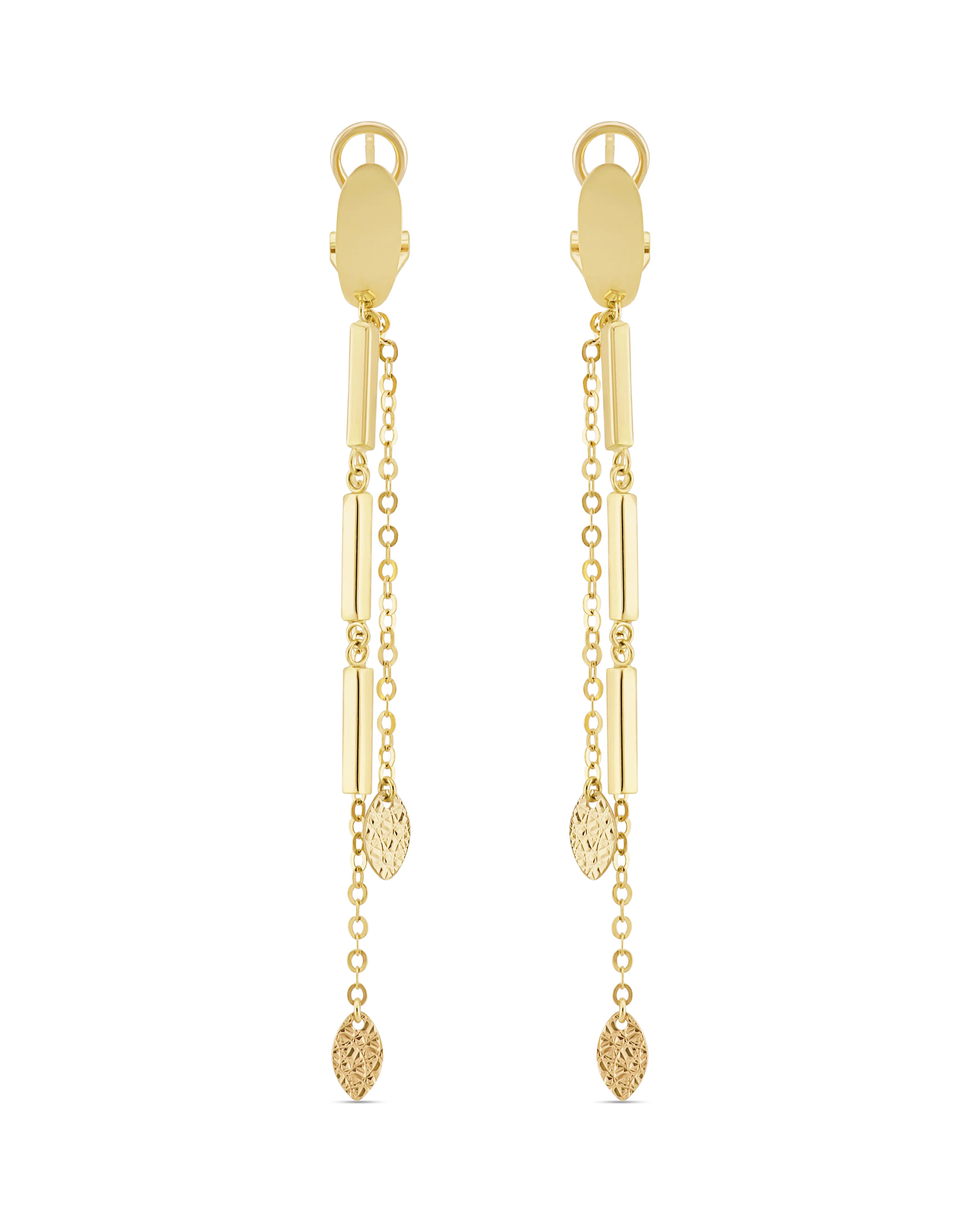 Are Floral Delight Earrings Suitable for Formal and Casual Occasions?
Earrings are more than just adornments; they are declarations of fashion and character. The "Floral Delight" Earrings are an example of a mesmerizing pair. They are designed delicately and have lengthy, layered petals that mimic the beauty of flowers in nature. But can these earrings crossover from casual to formal settings with ease? In this post, we examine the "Floral Delight" Earrings' adaptability and how they can beautify you for any occasion.
The Allure of "Floral Delight" Earrings 
Enchanting Design:
These earrings feature intricately crafted long, layered petals that gracefully sway and dance with your every movement, creating an enchanting visual appeal.
Gold Elegance:
These 18k gold earrings are a timeless option for a variety of events because of their ageless elegance and sophistication.
Lightweight Comfort:
Despite their intricate design, the "Floral Delight" Earrings are lightweight at just 6.15 grams, ensuring comfort throughout the day or evening.
Casual Chic with "Floral Delight"
Everyday Glam
:
The delicate yet versatile design of these earrings allows you to effortlessly elevate your everyday look. Whether you're running errands or meeting friends for brunch, they add a touch of charm to your attire.
Dressing Up Denim:
Pairing these earrings with jeans and a casual top creates a stylish contrast that's perfect for a laid-back day out.
Weekend Getaways:
When you're packing light for a weekend getaway, these earrings can easily go from daytime adventures to dinner at a quaint restaurant.
Elevating Your Formal Ensemble
Elegant Evenings:
In formal settings, the "Floral Delight" Earrings fit in just as well. They are a wonderful option for elegant dinners or special occasions because of their elegant appearance and 18k gold construction.
Cocktail Parties:
These earrings strike the ideal blend of refinement and flair for cocktail parties when you want to make a statement without going overboard.
Wedding Elegance:
As a wedding guest or even a bridesmaid, these earrings add a touch of nature-inspired charm to your formal attire.
Tips for Styling "Floral Delight" Earrings
Hairstyle Matters:
Consider wearing your hair up or in a sleek bun to showcase these earrings' full glory.
Matching or Contrasting:
Depending on the occasion, you can opt for an outfit that matches the earrings' elegance or one that creates a striking contrast.
Subtle Makeup:
Keep your makeup subtle to let the earrings take center stage, with a focus on enhancing your natural beauty.
Versatile Wardrobe:
Invest in versatile clothing pieces that can be dressed up or down, making it easier to pair with your "Floral Delight" Earrings.
Conclusion:
The "Floral Delight '' Earrings  by Classiyah are more than simply a fashion statement; they are a celebration of both nature and man's artistic prowess. Their ability to transform from casually cool to formally elegant is limitless. These earrings are a stunning addition to any jewelry collection because of their alluring design and 18k gold construction. Let the "Floral Delight '' Earrings be your go-to option for adorning yourself with nature's beauty and ageless elegance whether you're strolling through a park, attending a cocktail party, or commemorating a special occasion.
Older Post
How to Style Your Outfits with Infinite Cube Necklaces

Newer Post
How to Pair Gold Necklace Designs for a Stunning Look?